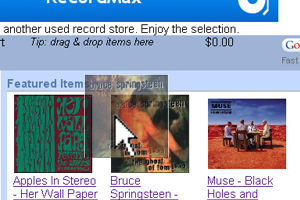 Drag & Drop Shopping Cart
It is more intuitive to drag and drop products to the shopping cart from anywhere in the store, without having to find an "add to cart" button. Forget distracting cart pages that bog down your customers. The contents of our shopping cart are always visible so the customer can't forget to checkout.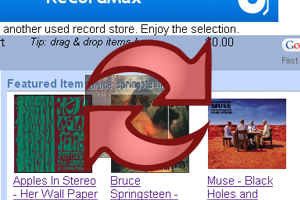 Fast Browsing
All other sites make shoppers wait for each product or category page to load. MyStoreSpace uses AJAX technology which enables your customers to find what they are looking for and checkout faster than any other solution. Show your love for your customers and choose MyStoreSpace!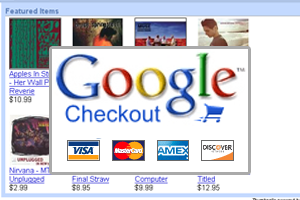 Convenient and Secure Checkout
Your customers will appreciate how convenient it is to pay for products in your store. Let Google Checkout process all of your credit card transactions at no cost until the end of 2007.
Read more...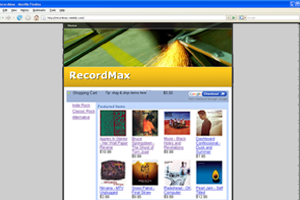 Embeddable Store Widget
You can embed your store into any web page with a snippet of HTML code. Example 1 Example 2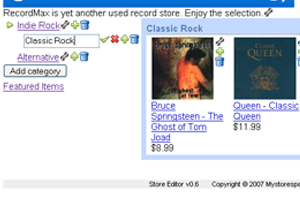 WYSIWYG Store Editor
"What you see is what you get" store editing means there are no lengthy store setup wizards to fill out. Just click on any text in the store and type over it. Try it!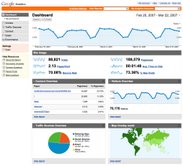 Visitor Tracking
See who visits your store, where they come from, and what they look at. All category and product sections in your store send data to your Google Analytics account.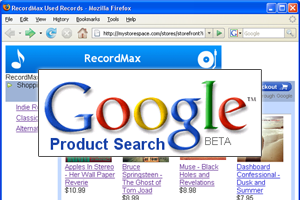 Listing on Google Base
Increase your visibility and sales by having your products listed on Google Base. coming soon
Your Own Domain Name
Use your own domain name for your store or a subdomain if you want to make it a section of your existing website (e.g. store.example.com). If you don't have a domain name, we'll make your store accessible from a URL that starts with http://mystorespace.com/stores/. We host your store either way.
Easy Photo Management
We automatically create thumbnails for your product photos and let you resize the originals. You can also quickly insert any photo from your Picasa Web Albums account.